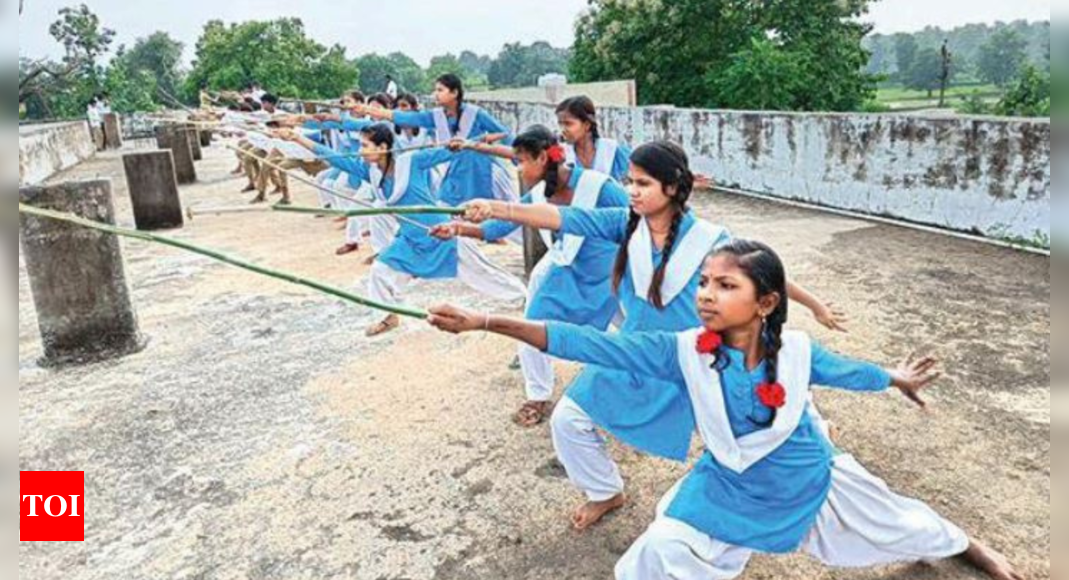 Bamboo sticks, all-in-one coaches for budding fencers in MP | Bhopal News – Times of India
BHOPAL: Sticks for swords and a football coach for a trainer, this is how 72 'fencers' from Madhya Pradesh's Mandla district have come to participate in the state-level school championship at Bhopal's Tatya Tope Stadium.
These schoolkids have never seen a real fencing sword. Coaches admit it's an embarrassment for both players and the team. The question is, where have the crores spent by the school education and tribal welfare departments in 'developing fencing infrastructure' in the region gone?
Sandeep Verma, coach of the under-19 category players of Mandla division, told TOI that despite several requests, facilities were never provided to them. "Our players are practicing with bamboo sticks. I am a football coach. We have limited sources for children in our area," said Sandeep.
He added, "I brought these children to the state championship so that they can at least have a feel of modern facilities in the state capital. Several of my players boarded a train for the first time in their lives. You can imagine how badly they need encouragement, motivation and facilities."
'Can play better but need better facilities' | page 4
Asked why he was coaching the fencing team when his background is football, he said, "I do it with the help from others and videos. I want them to compete and learn and I am happy that they have got the opportunity to see the state capital." The problem of lack of coaches is not limited to the Mandla team. A coach from Gwalior, Ravindra Parihar, said, "There is no fencing coach for our team. I know the basics of every sport, which helps me coach children as needed." But then fencing is a very technical sport that requires a high level of expertise. Asked how they were trained, a student said, "I am touching a fencing weapon here for the first time in my life. For me, this itself is a big experience. I had never seen such a stadium as Tatya Tope in Bhopal. I am confident I can play better but for that, I need better facilities."
Many of the all-in-one coaches in schools do not even know when the national fencing championship was held and who are the big names in India. Most of the players are participating in 2-3 sports as the organisers want to show that event was successful. "Fencing players will compete in football next, or even hockey, and then some other game. This will not produce talent," said a senior coach, requesting not to be named. A senior fencing coach of MP said, " A football coach can't train a fencing team. It can hurt players as they do not have any knowledge about the game. This must be stopped immediately."